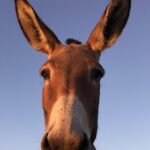 I believe it was the donkeys guiding me as I took to researching Animal Communicators. Again and again Christina's warmth and beautiful loving light touched me. It was like she was reaching her hand around our hearts and warming them. I knew, deep within, that this was the lady for us. I made contact and now feel I have a lifelong friend and mentor.
It was like they'd been waiting for her. They spoke to her with such open, raw honesty that, when communicated with me, made me basically drown in tears as I went through a period of intense emotional release right alongside my four-legged soul mates. We literally transformed with the healing communication Christina so generously provided us. Old fears are gone, physical ailments are clearing, old trauma has been shaken off, new names have been found and the future is ours to dream big together!
Since Christina communicated with us, I have had the mostly deeply profound spiritual experiences with these incredible creatures in my care. We have breathed each other in so deeply as I honor them for who they are really are. Hours have passed as I simply sit with them. In those moments my heart is so full. It's like we are now able to connect and through that connection can pour love into each other and into the world. What a tremendous gift this is from Christina.
I cannot express in words how incredibly grateful I am for Christina's expertise as an animal communicator and healer. She has this real genuine, grounded approach to her work that is just so incredibly powerful. It really has been a life changing experience.
I am so excited to be able to learn from Christina in her upcoming training sessions and to be able to continue on this path to deep connection. As Alfie said, we have more steps to take together Christina and I can't wait!
From the A team, we say an extremely big thank you and in return, send you love always Xxxx
Love from Alfie, Amor, Astro and Andrea Geraldton, Australia