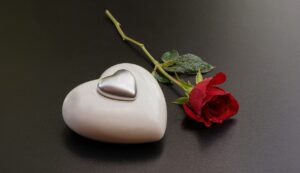 As animal communicator and animal human "parent" myself I know that losing an animal is saying goodbye to a dear family member. Letting go is so hard and can bring you in touch with deep felt feelings and grief within. Feelings of guilt may raise up, feeling abandoned or feeling lonely without your fur being.
As psychotherapist for human beings I can and love be there for you, when you are in deep grief of losing your fur family. It is absolutely normal to feel sad and maybe even at lost for a while.
When you would feel the desire to talk, share or being listened to, you can be sure you get my support. I will be there and guide you gentle through the different stages of your grief. You can talk about your feelings and I will hold space for you. You can be sure all you tell me will stay with me. I will be a guide beside you on your path, walk a couple of steps with you till you feel grounded, that you are in a better state and can continue on yourself.
We might even do a goodbye ritual together for your fur family member, when you would love to create that at the end of your counselling sessions.
These sessions are tailor made for you and you and you are in the centre of our sessions.