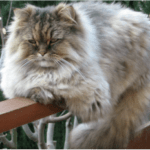 My cat Merlin had problems with his kidneys and was also in a process of isolation after having gone through the trauma of the departure of my other Persian cat, Ammita and another cat who had also passed away three months prior.
The communication of Christina and the healing at a distance of Ken were miraculous! Peace and health were restored in the home. As mentioned in the earlier testimony I could understand the message of the universe that came to me through the symptoms of Merlin, which made a profound change of attitude toward my own life.
The message I had received from Merlin, through Christina and Ken was that I had been delaying to move. Moving will contribute to my evolution and progress. Staying in my current house only produces extra stress which in turn affects Merlin's health, as our pets respond to our pulse. Thus the healing that Merlin had received was also for me.
I am much more present and focused and completely determined to finally move. This change in my own attitude has also immediately shown in the general state of my best feline friend: My inscrutable Master Cat Merlin.
We are one, and the healing of a pet is the healing of the whole house as well as the human caregiver.
Also the clarity gained regarding the conduct of Merlin, allowed me to see other resources and I consulted a veterinary homeopath. Merlin was wonderful and lovingly assisted from the other side of the world, as they are in Australia and I live in Argentina.
The result has been wonderful and I am deeply appreciative. Merlin also!"
Thank you Christina and Ken for the profoundness and impeccability of your work!
Thanks a million!
Alana, Buenos Aires, Argentina, Alana Messineo