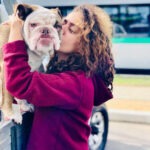 I will start by describing my cute little boy who is a 1 year old British Bulldog from Queensland, WA. So, the issue for which I contacted Christina was due to my boy being scared at times when he would hear loud noise and tremble with fear, to the extent of peeing and crying. One day, I came home to see him wet in the rain and hiding under our table (kept in the balcony). It was terrifying for me to see him that day. I felt I had to do something and hence, I got to contact Christina.
I will be honest here, I contacted another animal communicator before her but I felt weird due the person's non availability and the manner in which she presented herself to me was more about herself and not about what I contacted her for. But, with Christina, I felt a connection and this was the beginning of our beautiful relationship.
My boy Sucre is doing better, learning to trust me and my partner. The work that Christina does is spectacular and we admire her a lot. We feel that Christina made a huge impact in our lives and we are learning to explore the love we have for our boy.
I personally want to thank you for her beautiful efforts and staying in touch with us. You're a beautiful soul Christina, We wish to meet you soon.
Sheena, Mappy and Sucre