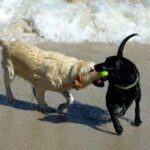 Until I met you, I had not heard of  "Animal Communication".
​Now having known you for eight years and having seen your love and dedication to animals, and having seen firsth and how you interact with them, I have to admit that you have made a "believer" out of a sceptic.
The first time you assisted me was when my precious Labrador, Honey, became ill. We had just returned to South Africa from Australia. I'm not sure if the travelling had been too much for her but she was extremely ill and I was devastated. I reached out to you for help and you immediately communicated with her. You in WA and Honey in South Africa. You were able to guide me and encourage me in those weeks leading up to my decision to euthanize her. It was one of the most difficult and painful times of my life.
Honey was my baby, she was my best friend, she loved me, she encouraged me, and she gave me strength when I was weak. With your help I tried to do the same for her. No matter how hard I tried, I could never be to her what she had been to me. After a ton of medicine and help from one of Johannesburg's top Vets, she showed no improvement and was steadily becoming weaker.
You communicated with her again and then sadly told me that Honey was tired and was ready to give up the fight, however, I wasn't ready but after a couple of days I realized that I was being selfish in trying to hold onto her. You proposed a plan of action and recommended that I take Honey and my younger Labrador, Summer, to a place that was special to us for a day. You had given me a plan of action and I followed it to the letter. We went to a place that we loved going to.
It was a glorious, beautiful summer's day. There were times during the day when Honey would run and swim like she had when she was strong and healthy. Towards the end of the day, she started showing signs of extreme discomfort and we headed to the Vet's office. You had recommended that I take Summer with me when it was time to say goodbye to Honey. I'm so glad I did as Summer proved to be such a strength and comfort to me. Honey's favorite treat was peppermints and Honey, Summer and I had a few together – our "last meal", if you will. After confirming with me that it was the best form of action, the Doctor administered the injection and Shadow and I stayed with Honey for a while after she had passed. We had enjoyed the day together tremendously and I had taken many photographs to capture the memory forever. It was such a special day, one that I hold dear to my heart. I would never have dreamt that such a sad day could hold beautiful memories.
Your ability to communicate with Honey had created a valuable bridge between her and I and you had been able to hear what she needed me to hear. "Thank you" doesn't seem adequate. Thank you for being there for me after the event too and for helping my heart to heal.
Your gift is real! I know you will be as big a blessing to others as you have to me.
Michelle Wessels, Honey, Summer, South Africa