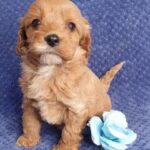 Christina has been a huge help to me in the past few months. My beloved dog Splash who was 12 years old passed away quite suddenly and left me heart broken and feeling quite empty and depressed. Through her communications with him I understood he had been ready to go and would be with me in spirit whenever I needed him.  
Since then I have a new puppy, Halo (who I'm sure Splash led me to).  He had to be transported from about 5hours out of Brisbane, overnight, then catch 2 planes, and another car journey to get to me.
Christina started communicating with him before he left for his big journey. She spoke with him – Calming him, sending him animal friends to keep him company, reminding him that his mum would always be with him, helping him not be scared of the cold and noise in the plane, and led him through a series of meditations to help him. He arrived after 18hrs travel knowing who I was straight away.  Christina sent me
voice memos of the communications she had with him, links to the music she had playing in the background and music that I was to play to him that he would recognise.
This was a most amazing experience! I was expecting Halo to be extremely traumatised but he was confident, calm, and settled in pretty much straight away! I have played the music Christina sent for him frequently and it calms him down instantly. 
Thank you so much Christina for making this transition so peaceful and beautiful for both of us!
Tamara Perth, Australia